Zuca Sport Bag - FIRST AID with Red Frame
Product Description
Saving lives and rescuing someone in need is wonderful. So put this utility Zuca sport bag to good use and carry it to your way to hospitals. So whether you're a child playing doctor nurse or a professional studying medicine to become a nurse or doctor this Zuca sport insert with its extremely versatile art and design is the perfect bag to carry while you're making your way to good work.
Carry your practice with you in this beautifully curated Zuca bag especially designed to fit all of your important equipment.
For every person who values and respects human lives more that their own the Zuca sport insert First aid is an extension to their beautiful and selfless personalities. It's a great reminder for children to be consciously aware of the responsibility of another human life as well as their own. And for professionals this Zuca sport insert is great as it holds all the essential tools that are required in their practice. It's got numerous compartments and pockets for small items as well as deep end pockets for storing bigger equipment. It's fairly light in weight and very easy to maintain as well, making it very convenient to carry around when in transit. Its wheels are noise free and capable of withstanding sudden jerks without faltering. It's not all seriousness with this bag as is also have a few fun elements to it like interesting mesh pockets for beverages, fun art work and flashing led light that glitter as you stroll your bag. You also have a creatively designed name tag that matches your Zuca first aid so you're able to retrieve your bag in case it gets lost.
Technical Specs – Sport Insert & Sport Frame
39.5" Telescoping handle
Inspired by aerospace technology, the aluminum alloy frame is light, super strong and rated to safely support up to 300 lbs
The removable, hand washable, Insert Bag is made from premium water resistant 600D polyester
The dual wheel system climbs stairs and curbs with ease
This bag DOES NOT meet FAA specifications for carry-on baggage
Magneto dynamic 4" polyurethane wheels absorb shock and make for a seriously silent ride
Gear platform to carry additional load
Feet, made of nylon 6, go easy on scratchable surfaces
Dimensions:
18" height, 10" width, 13" depth
Dimensions (including wheels):
18" height, 12.25" width, 14.75" depth
Weight (frame and bag): 9.4 lbs
Capacity:
Cubic inches: 1,787 in
Cubic centimeters: 29, 292 cm
Liters: 29 L
Note:
All weights, measures and similar descriptions are approximate and are provided for convenience purposes only. We make all reasonable efforts to accurately display the attributes of our products, including the applicable colors. However, the actual color you see will depend on your computer system and we cannot guarantee that your computer will accurately display such colors.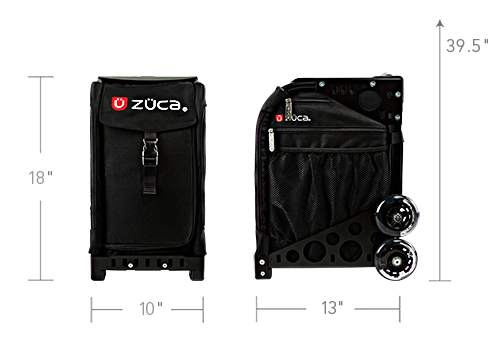 Custom product tab
Praesent at justo congue leo adipiscing porta nec non sapien. Donec et libero nunc quis facilisis odio.
Integer et est tellus non bibendum est. Namcos tempus turpis at metus scelerisque placerat nulla eu sollicitudin felis. Pellentesque diam dolor elementum et lobortis at mollis ut risus. Sed faucibus ullamcorper mattis. Fusce molestie elit a loremos tempus scelerisque blandit tortor cursus. Quisque dolutpat orci ut metus malesuada lorem in interdum lectus scelerisque. Praesent eu odio ut nisi ullamcorper ultricies. Cum sociis natoque penatibus et magnis dis parturient montes, nascetur ridiculus mus.
Find Similar Products by Category