Product Description
Flexible pads slip in your tights, bike shorts or undergarment.
Won't slip or slide
Easy to use and remove
Place where you need protection most
Absorb impact force and shields body
Protects from bruising and long term abuse
BUILDS CONFIDENCE while learning new tricks and moves
PLEASE NOTE WE DO NOT EXCEPT RETURNS DUE TO HEALTH CONCERNS ON PRODUCTS USED ON YOUR BODY. EMAIL US IF YOU HAVE AN UN-OPENED ITEM RETURNS MAY BE POSSIBLE.
Email us with any questions we have been serving the sports & health industry for over 20 years.
Lay Pads flat to dry after use and keep away from your blades while training and in your bag after storage.
NO RETURNS ON TORN or DAMAGED PADS treat them as you do your training gear. More information is on our web site.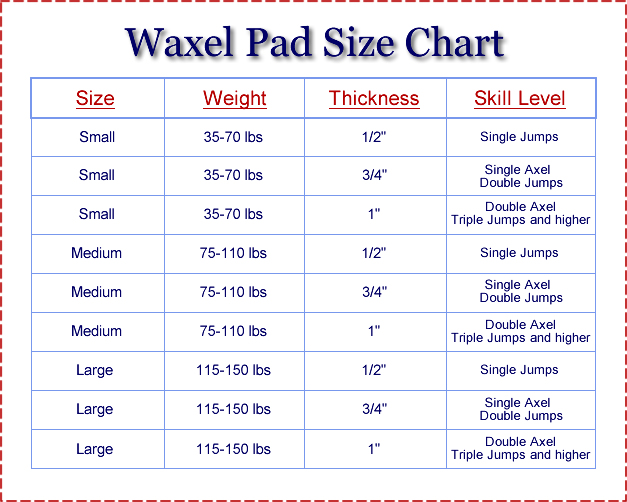 Waxel Pads© offer protection and comfort for serious athletes who experience high impact falls! These comfortable easy to use Impact foam pads slip easily beneath your tights or other clothing.
Made with a special soft impact foam these are flexible and stay in place. We designed them with both side smooth so they are reversible Tail Pad.
They don't slip and slide!
Each pad comes in three sizes (small, medium, large) and in three thicknesses (1/2", 3/4", 1") depending on your needs.
1/2" learn to skate up to axel
3/4" start jumps, axel and spins & on to doubles
1" double axel to triples and up
Custom product tab
Praesent at justo congue leo adipiscing porta nec non sapien. Donec et libero nunc quis facilisis odio.
Integer et est tellus non bibendum est. Namcos tempus turpis at metus scelerisque placerat nulla eu sollicitudin felis. Pellentesque diam dolor elementum et lobortis at mollis ut risus. Sed faucibus ullamcorper mattis. Fusce molestie elit a loremos tempus scelerisque blandit tortor cursus. Quisque dolutpat orci ut metus malesuada lorem in interdum lectus scelerisque. Praesent eu odio ut nisi ullamcorper ultricies. Cum sociis natoque penatibus et magnis dis parturient montes, nascetur ridiculus mus.
Find Similar Products by Category