Product Description
Jackson Elite polyester replacement laces are available in white, black, bark and hazel colours.
White are available in 86", 98", 110", 122", 134" & 146"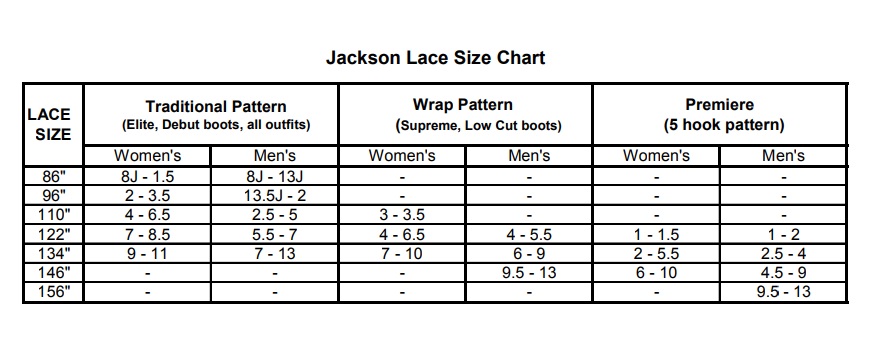 Product Reviews
Write Review
Great replacement laces!

Posted by Unknown on Oct 23rd 2018

I used these laces to replace the soft laces I got on my Jackson Artistes as my old laces could hardly hold for 30 minutes before slipping. I've been able to get my skates tight and they hold for hours! They still run a little longer than I really care for them even with following Jackson's guideline for size, so I'll probably get one length down the next time.
Custom product tab
Praesent at justo congue leo adipiscing porta nec non sapien. Donec et libero nunc quis facilisis odio.
Integer et est tellus non bibendum est. Namcos tempus turpis at metus scelerisque placerat nulla eu sollicitudin felis. Pellentesque diam dolor elementum et lobortis at mollis ut risus. Sed faucibus ullamcorper mattis. Fusce molestie elit a loremos tempus scelerisque blandit tortor cursus. Quisque dolutpat orci ut metus malesuada lorem in interdum lectus scelerisque. Praesent eu odio ut nisi ullamcorper ultricies. Cum sociis natoque penatibus et magnis dis parturient montes, nascetur ridiculus mus.
Find Similar Products by Category