Zuca Sport Bag - BLOSSOM w/ White Frame *$20 OFF* Minor Cosmetic Damage
Product Description
This is a NEW Zuca, never been used.
Has a tiny cosmetic blemish on the bag
(will attach picture)
$20 OFF
Like the flowers dancing to the tunes of the rain and wind, your bag dances to the tune of nature. You get to blossom in the wind when you travel with this bag. The bag looks extremely sturdy and this would be a good pick for girls to buy. The pattern of the bag goes in hand with the different customisable pouches. The blossom bag has many options to choose from in terms of the designs in the middle .Young kids find the looks attractive and would want to rack it up in the wardrobe. Be sure to be on the move when you carry this bag for skating .It's extremely spacious to store all kinds of accessories. The bag opens in front with two additional compartments inside to store your things, be sure to have a compartment kind of a bag to keep your valuable things separate. There is a side pouch to store water bottles. The bag also comes with an ice cream design pattern in front making it look even more attractive. You become awesome when you use Blossom.
Zuca Sport Bag – BLOSSOM is placed on top of a frame available in colors such as pink, green, blue and black. These frames give a unique feel and look to the Zuca bag. The design gets inspiration from aerospace technology supporting up to 300lbs. One can use this for figureskating and also carry as a school bag. The replaceable inserts are water resistant made in 600D polyester.
Technical Specs – Sport Insert & Sport Frame
39.5" Telescoping handle
Inspired by aerospace technology, the aluminum alloy frame is light, super strong and rated to safely support up to 300 lbs
The removable, hand washable, Insert Bag is made from premium water resistant 600D polyester
The dual wheel system climbs stairs and curbs with ease
This bag DOES NOT meet FAA specifications for carry-on baggage
Magneto dynamic 4" polyurethane wheels absorb shock and make for a seriously silent ride
Gear platform to carry additional load
Feet, made of nylon 6, go easy on scratchable surfaces
Dimensions:
18" height, 10" width, 13" depth
Dimensions (including wheels):
18" height, 12.25" width, 14.75" depth
Weight (frame and bag): 9.4 lbs
Capacity:
Cubic inches: 1,787 in
Cubic centimeters: 29, 292 cm
Liters: 29 L
Note:
All weights, measures and similar descriptions are approximate and are provided for convenience purposes only. We make all reasonable efforts to accurately display the attributes of our products, including the applicable colors. However, the actual color you see will depend on your computer system and we cannot guarantee that your computer will accurately display such colors.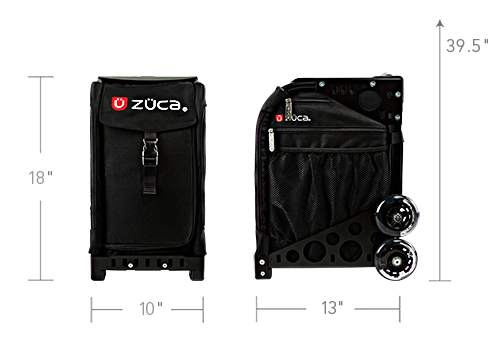 Custom product tab
Praesent at justo congue leo adipiscing porta nec non sapien. Donec et libero nunc quis facilisis odio.
Integer et est tellus non bibendum est. Namcos tempus turpis at metus scelerisque placerat nulla eu sollicitudin felis. Pellentesque diam dolor elementum et lobortis at mollis ut risus. Sed faucibus ullamcorper mattis. Fusce molestie elit a loremos tempus scelerisque blandit tortor cursus. Quisque dolutpat orci ut metus malesuada lorem in interdum lectus scelerisque. Praesent eu odio ut nisi ullamcorper ultricies. Cum sociis natoque penatibus et magnis dis parturient montes, nascetur ridiculus mus.
Find Similar Products by Category